<<Back
The Dust Will Answer
An urban noir novel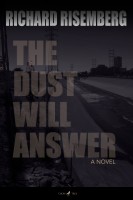 No Lofts, No Lattes. No Law.
1978: The wave of gentrification has yet to break over downtown Los Angeles, and vast swathes of the warehouse district lie nearly abandoned next to the sterile trench of the city's concrete-clad river.
Lenny Strasser, a straight-arrow type with a taste for shady places, plunges into that world to discover that sometimes the only distance between two points is a very crooked line. When Lenny's friend Dave Larrabee nags him into helping him track down a missing girlfriend, Lenny suspects that the girl doesn't want to be found. He knows her all too well: she was his before she was Dave's, and she'd gone gleefully missing from his life one time too many. Worse, he's not entirely sure he's over his feelings for the theatrical and self-centered Kate.
But this time it wasn't one of her ordinary infidelities--she may have fallen, again, into the hands of the charismatic Nighthawk, who could lead her into territories where the danger is real and role-playing no protection from harm.
The quest takes them into hobo jungles and punk squats by the LA River--and into an after-midnight darkness of moral ambiguity that changes Lenny's life in ways he'd never dreamed of.
The Dust Will Answer is now available in print, in a paperback edition produced by Lulu.com. Click on the graphic below to view and purchase it:

The Dust Will Answer is also available at:
Amazon (Kindle & paperback)
Barnes & Noble (Nook)
iBooks (iBook)
Kobo (Epub)
Smashwords (Most e-book formats)
Amazon, Kobo, and Barnes & Noble allow you to download free e-reader apps for your smartphone, tablet, or computer; you do not need a dedicated device to enjoy this novel, though they are very nice to read upon.
If you prefer to support your local independent bookstore, you can ask them to order the print version through Ingram; the ISBN is 978-1-312-98467-7.